Tammy Kozari
REALTOR®
Tammy Kozari was born and raised in Penticton, she became a Sales Associate and joined her mom as "Your Mother & Daughter Team" for Royal LePage Locations West in 2006.
Tammy has inherited Debbie's high work ethic and demonstrates a very progressive attitude that brings fresh and new ideas to the team.
Debbie and Tammy work extremely well together. Debbie's knowledge, experience and Tammy's computer skills, innovation and drive make them the perfect team to look after your real estate needs.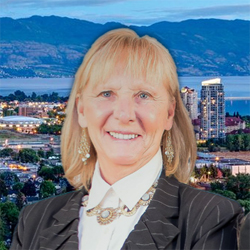 Debbie Kozari
Unlicensed Assistant
Debbie Kozari has over 30 years of real estate experience and became a partner of Royal LePage Locations West, in July 1994. Debbie's career has always been involved in the sales industry with the emphasis being on client service. Her quality of service and knowledge supports her outstanding reputation. Debbie has a very high work ethic, is hardworking, and is always looking out for her client's best interests.
OUR SERVICES
It's important to me to deliver an exceptional home buying experience to each of the clients that I am fortunate enough to work with. Here is a general overview of some of the services I can provide to my clients in an effort to do so.
---
Explain the real estate selling process thoroughly.
Listen carefully to make sure YOUR objectives are understood.
Implement a proven marketing plan.
Make every effort to sell your real estate promptly.
Generate and follow-up on leads.
Communicate consistently, so you know what to expect.
Communicate all showing feedback.
Discuss agency representation.
Price your real estate correctly.
Complete and file all the appropriate paperwork and contracts with the appropriate parties.
Stage your home for sale.
Network the entire broker population.
Negotiate all offers making sure your best interests are taken care of.
Diligently track the closing process on the sale of your home.
READ AMAZING REVIEWS
from our amazing clients
---
Being new to town, and not knowing the city too well, the team of Kozari and Kozari not only put my first time buyer jitters at ease, but were very proactive and helpful in finding houses in my price range, and promptly booking showings for me. I finally decided on a house and could not…
I got the very best results with this Mother & Daughter Team. For all your real estate needs this is the team that goes above and beyond duty to meet all your requirements.
We are very appreciative of you and Tammy assisting us through the important choice of finding a retirement home. You were both very patient and not once did we feel rushed to make a decision. You will be remembered fondly. Thank you to a GREAT Mother and Daughter Team!
Are you looking to sell your home or looking to make the next big step and purchase your next home?
Contact Kozari & Kozari today to get started!